095 What No Evidence
Descriptions > Other backgrounds
095 What, No Evidence?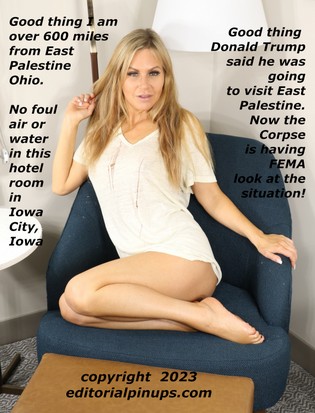 A Norfolk Southern train rolling through the town of East Palestine, Ohio February 3, 2023 had a major equipment malfunction causing a derailment and a fire. The train had been throwing flames under train cars for over twenty miles prior to the derailment. On February 6, 2023 a control burn was started to burn of the chemicals in the cars citing this being better than a car exploding.
Residents have been finding dead fish in streams, dead and sick animals have been reported by residents. Other East Palestine citizens have been reporting physical problems including respiratory, eye, skin and other irritations.
The EPA comes in and reports that air and water quality are just fine. Some politicians even took sample drinks of water.
But initially missing in action were the corpse's FEMA representatives and the alleged transportation secretary, Pete Buttigieg. is out bitching about racial makeup of construction workers and how hotels charge. In other words nowhere to be found.
I do not care about Buttigieg's sexual preferences, but as a mayor and Secretary of Transportation, his record is failing at best. He enjoys not showing up. Four months paid paternity leave? Elitist at best. Go to work, come home then bond with the kid.
So with no senior Corpse administration officials checking in on the problem after two weeks, former president Donald Trump though Truth Social, announces that he will be in East Palestine Ohio Wednesday February 22. Guess what?! FEMA has a change of mind and is coming out.
The only thing we heard from Pete Buttigieg, it's Trumps fault.
Trump has an idea how the presidency should work…. 80 million voted for the Corpse?
As Billy Cunningham says constantly on his Sunday national radio show "Are you kidding me?!!!
Contributing article sources include th Washington Post, The Daily Mail, The Bill Cunningham Sunday Syndicated radio show, The Washington Examiner, Truth Social, and Dayton247now.com.