124 Jill that look when you dont get it
Descriptions > White Backgrounds
124 Jill, that look when you don't get it!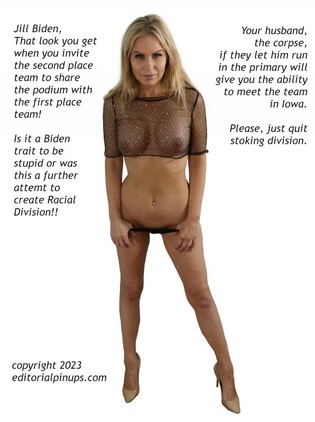 124 Jill, that look when you don't get it!
This is simple. In all of the sports leagues that an invitation is made for a White House visit it is the winner of the big prize that goes. That is it. No one else.
LSU and University of Iowa women's basketball game for the NCAA championship was hard played. In the end LSU came out on top. They won. This normally means they would get an invite to the White House.
So Dr. Jill Biden, (same type of degree my dad did and we called him doctor) comes up with this strange ass idea saying the game was so good that both teams should come to the White House. Iowan's saw this idea as an injustice and all of the responses I heard form media to the coach Iowa would respect the history and turn down the invitation.
Coach Lisa Bluder politely declined but invited Dr. Biden to come to Iowa and they would be glade to giver her some time to visit. Star player for Iowa Caitlin Clark"I don't think runner-ups usually go to the White House. LSU should enjoy that moment for them, and congratulations, obviously; they deserve to go there."
LSU head coach Kim Mulkey has not addressed Iowa potentially being invited to the White House, but she did say after the win that she would visit the White House if the Tigers were invited, according to ESPN. LSU players Angel Reese and Alexis Morris are saying that they would not like to go to the White House due to this situation, but decided to request the Obama's host them. Well some have said that the corpse in the White House is Obama 3.0, so why not go around the middle map.
I do find it interesting that Coach Mulkey from LSU did not address the invitation gaffe. The little bit I have seen from Coach Mulkey is that she looks fearful to teach public media skills to her players. This may just be that I am more familiar to Iowa basketball.
Reese has been the most vocal representative of the LSU team. I do not know her and do not know how she thinks. Some of her statements are interesting and she is definitely hinting at racism on the par of Dr. Biden. That can be a valid argument as the Joe Biden is a racist and Jill Biden at best is clumsy regarding racial and ethnic situation.
It is sad that the corpse is in the White House. It is a main cause for the United States is regressing. This has not helped. This is one more thing that the Biden crime syndicate is screwing up.