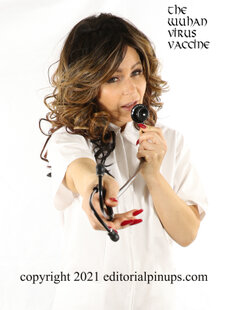 This stupid virus had caused us to social distance. I had decided to put model shoots for on hold during this period. I had put the cash in the bank then started up. Check out the site and you will see what I do.
During that time I have decided to write my thoughts on the pandemic issue and how it is happening, inclujding the destruction of the economy.
Where items in life are explained through the mixture of pinup
portraiture
and editorial cartooning concepts. The views on this site are the accumulation of goofiness created by Society, Politicians, Logic Defying Individuals, Situational Hacks, Money
Grubbing
Bureaucrats,
and a Variety of Others! You may agree, disagree, feel offended, think there is too much raciness, but the total of those combinations are designed to catch your attention and make a message to drive home a point.
Follow the menu structures to follow Chronologically, reverse chronologically, by various categories or just look for one in particular.